About us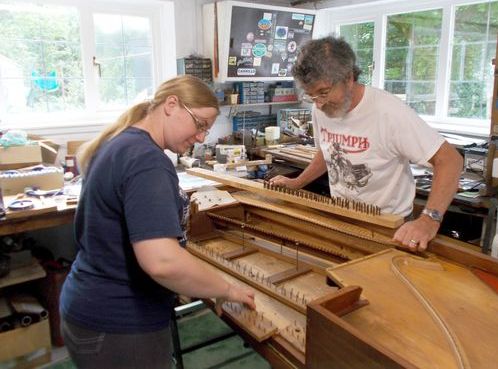 Our speciality lies in the restoration of earlier square pianos with over twenty years of experience.
The proprietor, Tim Smithells, was the steward of the Finchcocks collection from 1997 until the museum sadly closed in 2016. During this period Tim was responsible for the upkeep of the collection and undertook regular repairs and maintenance.
When John Broadwood & Sons opened their workshop in Finchcocks grounds in 2004 Tim was invited to work with the Director, Dr. Alastair Laurence. Although Tim's training covers all types of pianos his work has predominantly focussed on square pianos requiring extensive restoration. When the Broadwood Company relocated to Whitby, Tim opened his own independent workshop undertaking restorations and repairs.
​In 2014 Tim's step-daughter Freya joined the company and she now undertakes restoration projects with Tim. Freya is a professional musician with a Masters degree in Music and is an instrumental teacher and performer in the local area. She has played at Finchcocks Music Museum on several occasions, demonstrating the exhibited instruments to the visiting public.