Wessex Square Pianos - Restoration, Repair & Maintenance
The word restoration can be interpreted in numerous ways. Some square piano "restorations" can do more damage than eighty years unloved in a garden shed!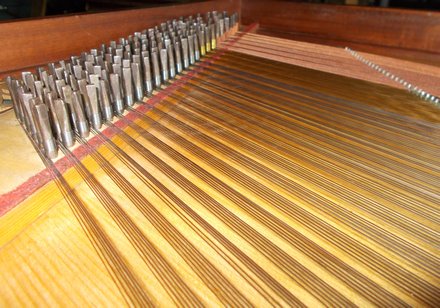 Typical examples of poor restoration include polyurethane varnish on soundboards, oversize tuning pins in place of the 200 year old originals (which may have been discarded!), key ivories bleached and sanded, inappropriate string types and wood repairs using irreversible modern glues. Over the years, repairs may have been implemented using incorrect hammer materials and fabrics accompanied by running repairs from amateur woodworkers. These efforts, however well intentioned, often culminate in a piano with a harsh, clunky sound and heavy touch due to poor or complete lack of regulation, if indeed the piano remains playable at all.
At Wessex Square Pianos we always attempt to repair and rescue all the original components. Where possible the original cloth will be retained, otherwise accurate replica cloth is used to replace aged and moth-eaten action base material. If your instrument has already been restored to a poor standard, we will do our best to replace those inappropriately chosen materials with the correct ones.
We presume our restored pianos are intended for use to create music, rather than just an ornament, and therefore we pay close attention to issues such as bridge separation from the sound board, failing joints and structural leg repairs. We always ensure strings are of the correct gauge and material. String calculation and tension charts are created and the original strings stored for reference.
Wessex Square Pianos will only restore using the most exacting methods with appropriate materials. Our aim is always to return your piano to a playable condition, as honest to the original as possible, to bring you pleasure for many years to come.